Read Time:
5 Minute, 42 Second
Alice Barrah | May 10, 2022
For the past decade we have experienced a drought so dire some thought we would never recover. Romance lovers have been forced to endure the desert of Netflix and Noah Centineo, seeking refuge in the side plots of television comedies. But a new era has been ushered in, one where movie theatres aren't just for nerds and whoever's still watching the Fast And Furious sequels. The cinematic rom-com is finally back!
The Lost City stars rom-com royalty Sandra Bullock in her first romance role in over ten years as Loretta Sage, a romance novelist who has become disillusioned with her work and consequential fame after the death of her husband. She is forced to promote her new book alongside Alan Caprison (Channing Tatum), an oafish but well-meaning cover model who sees himself as the hero of Loretta's novels, while harbouring romantic feelings towards her (hmm, wonder what'll happen there). Loretta is kidnapped by billionaire Abigail Fairfax (Daniel Radcliffe) who takes her to a remote island, intending to use her archaeological knowledge to solve the real-life mystery of her novels. Alan embarks on a mission to rescue Loretta despite his ineptitude, making for a reasonably serviceable adventure romance that's somewhere between Indiana Jones and Marry Me.
Reports that the 'Movie Star' has died are disproven as this film would undoubtedly flounder without the star power of Bullock and Tatum, their familar dynamic comforting to watch—Bullock as uptight and Tatum as delightfully idiotic. Although the comedy is obvious, often falling into the same Marvel-style sense of humour that is distinctly American, Tatum's farcical approach to his character reminds the audience why we love him so much. He has this quality to his performance—while difficult to pinpoint exactly— where he somehow manages to transform what should be weak dialogue into a performance that's charming and endearing, and I found myself for the first time thinking twice about his attractiveness, which I had otherwise dismissed as that of a sexless hunk. Tatum is the key to this film's watchability and although I love Sandy she is as sour as usual, reminiscent of her role as an uptight editor in The Proposal, although instead of eventually endearing the audience to her peculiarity she grows tiresome. Her performance is at times stiff, both in terms of emotion and facial expressions. These two actors are also forced to fight a losing battle against their absolute lack of chemistry, causing every attempt this movie made at sincerity and sentimentality to elicit winces instead. There is no greater sign of a failed romance when every kiss makes you feel physically uncomfortable.
The film also highlights emerging comedic talent, with Patti Harrison playing Allison, Loretta's social media manager. Although the character is a one-note 'how do you do, fellow kids' joke, Harrison pulls it off so well that she became my favourite character with all but five-minutes of screen time. My motivation to watch this film can be wholly attributed to a promotional TikTok featuring Harrison's character posting as Loretta, tweeting "hashtag gagging to slay you all".
Herein lies the most egregious misstep the film makes, which is not including this line in the final cut. But this also points to a larger issue, as there are jokes to suggest the original script was slighting drier and more comedically off-centre, or that comedians like Harrison and Bowen Yang, who briefly appears as a host, had improv scenes get cut from the movie's final form. The end result is bland and overly sanitised, and for the amount of jokes you enjoy there are just as many that make you grimace.
While I have proposed a world where the rom-com can be restored to its former glory, the truth is that the state of screenplay for such mainstream comedies is abysmal. One writer for The Lost City, (out of four, not a good sign) is also credited on various other genre classics like Isn't It Romantic and How to Be Single—note the sarcastic tone. It unfortunately seems as if all good writers would prefer to work on "classier" affairs, signalling a shift in film writing perspective where the concept of an unflashy dialogue-driven romance is not believed to be blockbuster material. So, until this generation's Nora Ephron emerges, this is what we must settle for. Radcliffe has also previously tried his hand at rom-coms with 2013's What If?, although this time his role is more reminiscent of his performance as a goofy antagonist in Now You See Me 2; you could chalk it up to a symptom of bad writing, an unconvincing delivery on Radcliffe's part or both, but these characters are grasping at straws to be taken seriously as big-bads. One thing is for sure: he is suitably awful in The Lost City, his personification of Abigail Fairfax maybe even taking up the mantle as one of the hardest to watch in the film.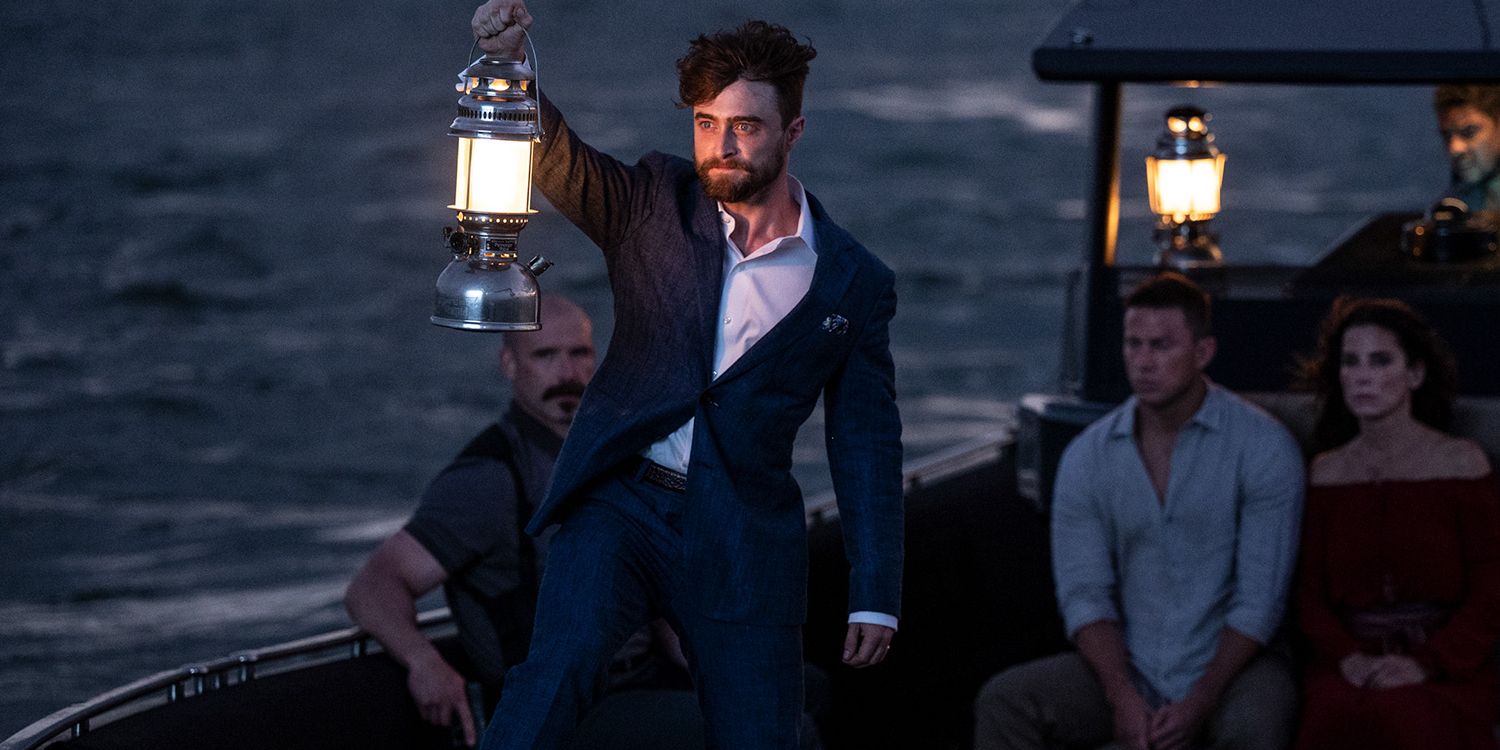 The Lost City makes some necessary compromises to assure it is palatable to a wide range of audiences, and it is certainly effective in this mission. In the current film landscape, it seems as though a pure romance is not enough to achieve box office success, so in an attempt to retain any semblance of cultural relevance, the film interweaves action into the oft-used combination of comedy and romance. Brad Pitt makes a reliably entertaining cameo as Jack Trainer, the ex-Navy SEAL Alan enlists to rescue Loretta. The ten-or-so minutes Pitt spends with Tatum are some of the most delightful of the film, and to make a shocking assessment of Pitt's performance, he is very charming—even I am not immune. I saw this film with my extended family which included a romance die hard, a Marvel nerd, a political drama enthusiast and a pretentious tastemaker, and we all left fairly pleased with how we spent the last two hours. Despite my adverse feelings towards the current cinematic trend of inoffensiveness to the point of monotony, the feat of pleasing such a wide range of taste must be acknowledged.
As film consumers, we may have subconsciously lowered our standards in the past decade when it comes to comedies, but the enjoyment brought through this film was undeniable. Notwithstanding all my bitter musings, it was a refreshing experience to be able to watch a silly rom-com in cinemas again, perhaps a signal that this once-prevalent genre of cinema is ready to be reinstated in popular film culture, as it once was during the golden age of the '90s and 2000s.